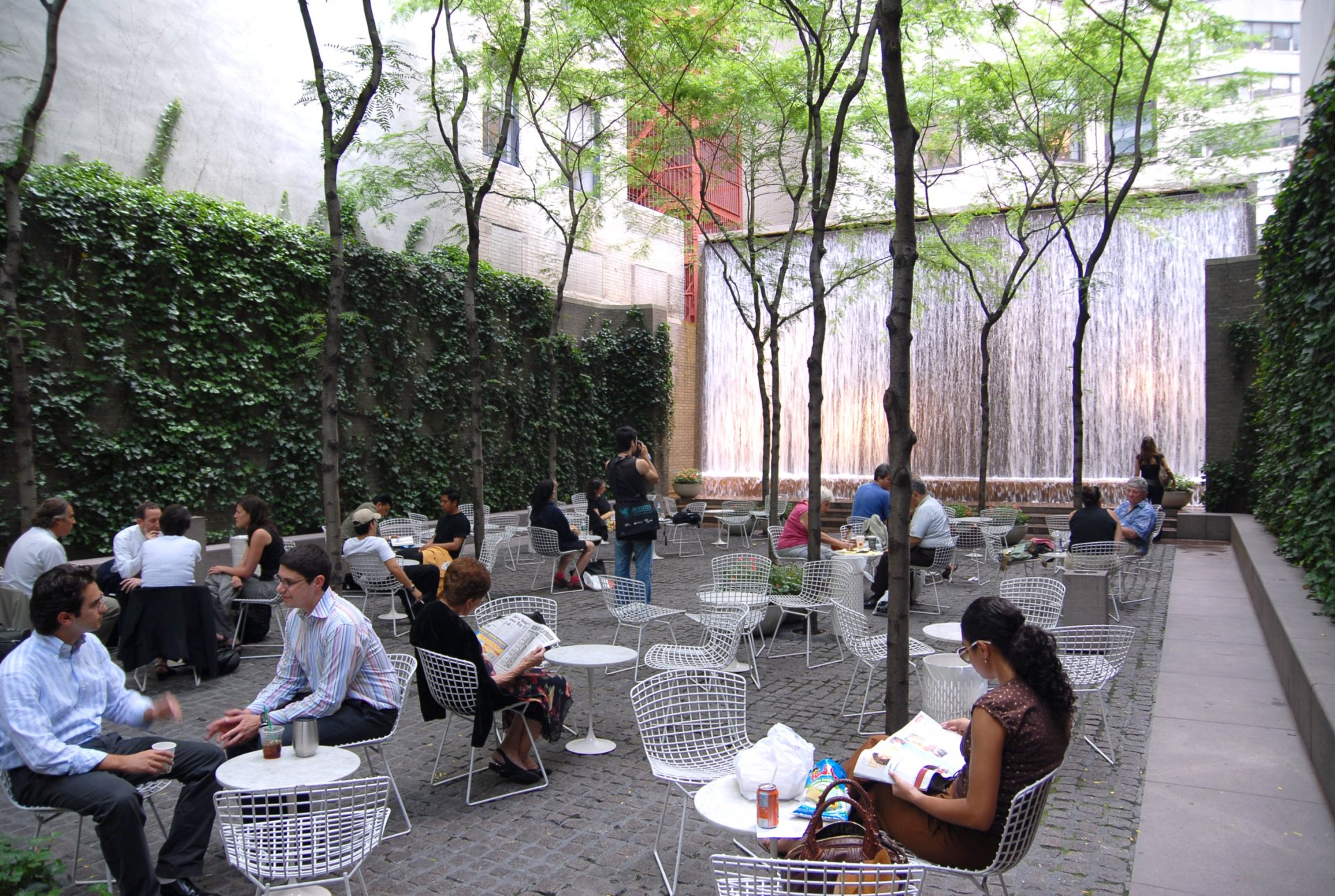 MORE AND BETTER OUTDOOR SOCIAL SPACES, PLEASE
Whenever I return to Portland from a trip abroad, whether I've been in BC, Spain, Denmark, or The Netherlands, I always feel a bit let down. Of course, I'm happy to home, to sleep in my own bed, and to reconnect with friends. But, right away, I find myself missing the lively, outdoor social spaces that are such a big part of what makes Europe and B.C. so great. There are so many cafés with outdoor seating, plazas, open-air ice-skating rinks, accessible lakes and rivers, and terrific urban parks. And they are typically full of amenities: places to eat, grab a drink, listen to some music, rent bikes or ice skates, or simply people watch.
These great spaces are very much part of the bustle and flow of urban life and they are not just a summer thing. In Nyhavn, Copenhagen on a below freezing winter night, my husband and I found ourselves wrapped in blankets drinking Irish coffees + people-watching. We were as cozy as could be. And in Amsterdam, the outdoor ice skating rink is one of the best places to see and be seen.
My conclusion is that Portland could do better. Portlanders deserve more and better outdoor, social spaces, places to eat and drink, meet friends, and simply watch the world go by. To be sure we've got some great outdoor spaces, like the Portland Farmers' Market, Jamison Square, and Keller Fountain. And there are some very exciting new spaces like Poet's Beach.
But still, Portland could learn a lot from other cities and their great outdoor social spaces. I'd like to share just a few of my favorite outdoor spaces from my travels as a way of inviting us to think together about our beloved Portland.  
NYNHAVN, COPENHAGEN
Nynhavn, originally a commercial port, is now lined with cafes and restaurants and there are historical wooden ships docked in the canal.  The facades are painted bright colors and it's all very Scandinavian. It's a lively place to walk and grab a drink or a bite to eat. You'll often find live music and there's almost always a  steady flow of people to watch.
PARIS PLAGES
Starting in 2002, Parisians have been able to go to the beach in the summer without leaving town. Every summer, a two-mile stretch of the Seine is closed to vehicle traffic and transformed into a series of beaches with sand, palm trees, umbrellas, and lounge chairs.  There are also swimming pools, kayaking stations, free concerts, and dancing. Fun in the big city!
PLAZA de los PEONES, JEREZ de la FRONTERA, CÁDIZ
The Plaza de Los Peones, not an "A" list tourist attraction, is a great reminder that it doesn't really take anything more than some shade trees, cafe seating, and a nice view to make a winning space. It might not seem like a lot, but it's more than enough on a pleasant day. I always love having coffee or lunch at one of the unassuming cafes that line the plaza.
ENGLISH BAY, VANCOUVER, BC
English Bay in Vancouver, BC, also known as First Beach rubs shoulders with the downtown and is absolutely stunning. You can rent kayaks, play volleyball, eat a meal, and swim if you're feeling up for some chilly water. Or you can just sit and enjoy the view from your patch of sand.  
LEIDESPLEIN, AMSTERDAM
Leidesplein is a busy square in central Amsterdam that is turned into an ice skating rink in winter. Day or night, it's a fun spot to skate and take in the ambiance. And when hunger strikes, you can seek out some oliebollen (doughnut balls), poffertjes (small Dutch pancakes), waffles and braadworst at one of the stalls circling the rink.
PALEY PARK, NYC
Paley Park in midtown Manhattan is a little jewel box of a pocket park. For me, it's a brilliant experiment in shrinking a park. How small can we make this thing and still have it offer a real retreat from the streetscape and bustle of Manhattan? Trees, ivy covered walls, a waterfall, and lots of intimate seating deliver plenty of rest and peace.   
I sure hope that as Portland gets denser we continue to invest in outdoor social spaces, especially ones that are open to the public. And I hope that we can get creative, thinking both big and small and remembering that people like to eat, watch people, sit in the shade, and have fun. We'd love to hear about your favorite outdoor social space, in Portland or elsewhere. Drop us a line, tag us in a social media post, or send us a letter! We hope to hear from you and here's looking at you, Portland!